Many aspects are simply wonderful about shira-ae (tofu sauce). The most compelling one is probably that it is delicious. Besides that shira-ae is easy to make. It normally doesn't require cooking and it calls for less than five ingredients. So all you need to do is quickly whip it up. It is frugal. Perfect to use up that little piece of tofu that is left somewhere in the back of your fridge. And it is like a white T-shirt in your repertoire. Savory and sweet – both work wonderful with this healthy sauce that gets its full-bodied flavor from dashi (stock), the secret ingredient of so much Japanese food.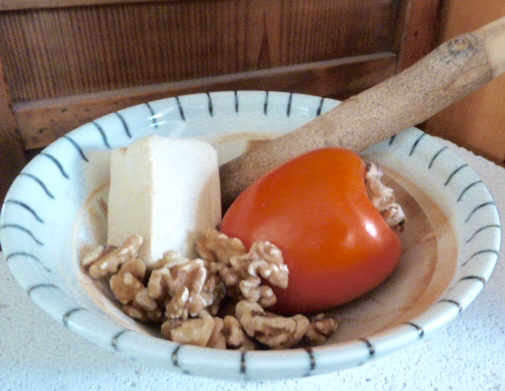 You will often find shira-ae paired with blanched greens like spinach or green beans. But the recipe that I will make today is a sweet type, a specialty from the Tohoku, the northernmost region of Japan's main island Honshu. In Japan it is a typical fall-dish, but as the persimmons in Europe are just perfect right now, it's now time for me to make it.
Ingredients: Serves 4
1 big or 2 small ripe persimmons (if you want to use the fruit as a serving dish use the smaller Fuyu-type)
a couple of fresh leafy greens like mitsuba (Japanese Parsley), alternatively celery leaves – optional
For the shira-ae with nuts
100g tofu
50g walnuts
a drop of light (!) soy sauce (usukuchi soy sauce) to taste. Normal soy sauce would stain the dish and spoil the beautiful white color
a drop of mirin (sweet rice wine) to taste
a drop dashi (stock – use kombu dashi to make it vegan) to taste
Method
If you use really fresh tofu you can use it as it is. If your tofu is a couple days old, you might want to blanch it for a minute in boiling water to hedge you bets with hygiene. Don't refresh the tofu after blanching it, but let it cool on its own while you roast and grind the nuts.
Dry roast your nuts over medium heat. When they are aromatic and lightly colored, save a couple to decorate the final dish and transfer the rest to a suribachi (Japanese mortar) or food processor, whichever you prefer to use. Grind them to your preferred size before adding the tofu. I like to notice the nuts in my dish, so I will not grind them very fine.
Now rip the tofu in small pieces and add it to your nuts. Grind and mix until the tofu-nut-mixture is smooth and thick. If you use a food processor make sure to only pulse-process the mixture to avoid heating it up. Finally add the seasonings to your liking. Be careful though not to add too much. Shira-ae is purposely only delicately flavored to give each ingredient the opportunity to stand out and be recognized. The final sauce should have the consistency of thick yoghurt and can be kept in the fridge for about two days.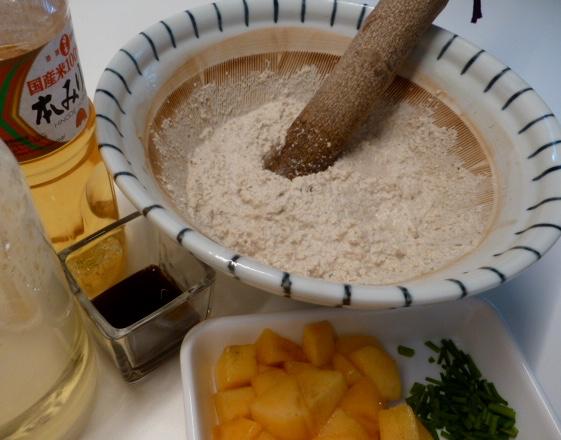 For the final dish, peel and cut persimmons into little, bite-size dices (dry the peels, if organically grown, and use them e.g. as fermentation seasoning). You can also cut persimmons just beneath their 'shoulders' and use them as a serving dish, but you will need to scoop out more persimmons for serving than to prepare the dish! Cut the stems of the mitsuba and gently mix them with the persimmons and the shira-ae just before serving it. Decorate with some roasted nuts and mitsuba-leaves and/or with the 'lids' of the persimmons that you scooped out.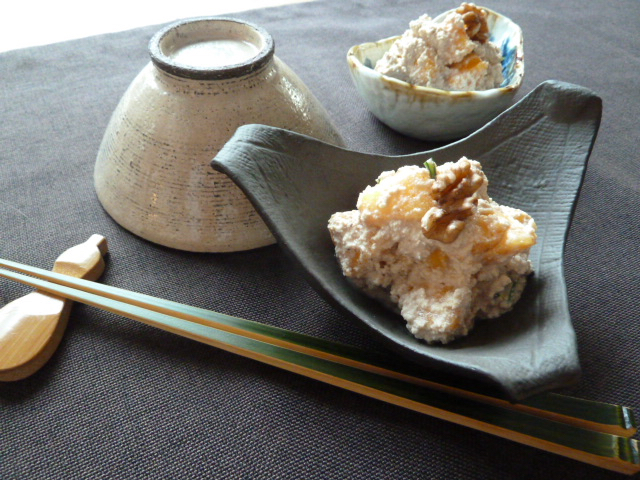 As said in the beginning, shira-ae is versatile and can be used with many other ingredients. Replace persimmons with apples, pears, grapes or melons after the seasons is over for a creamy sweet indulgence.