One way to change from slumber to wide awake is stepping barefoot on a Lego brick. I assume an experience that all parents somehow share. Sooner or later they will get you – or your foot. These days at our home those evil Lego bricks collude with walnut shells. Lucky me! While still deciding which one hurts more, my patience not to curse full-throated through our home gets tested almost every day.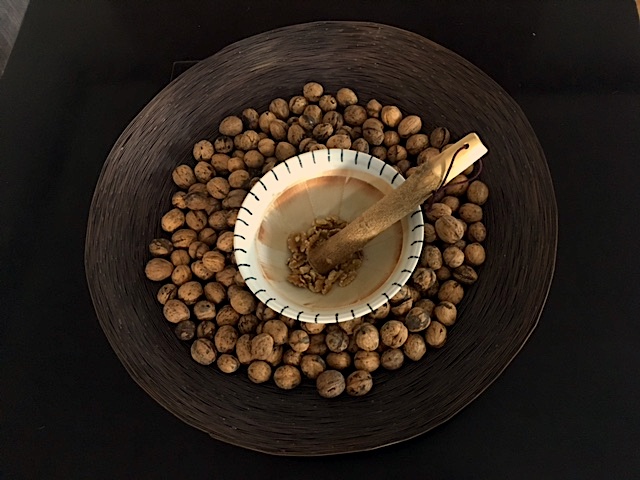 On our family vacation we collected this huge bag walnuts from the garden and I never expected them to be that popular among my girls. Even more so I was surprised about their speed in using the nutcracker, which kind of explains the shells all over our living room. But those nuts are magic. They turn tired, cranky and hungry little monsters that come home fighting after a long day of school and kindergarten into a cheerful little gang collaborating in cracking and eating those nuts.
Who am I to change this dynamic, although I actually planed a different use for the walnuts: I wanted to make a batch of walnut miso sauce, which is one of my favorite addition to blanched green beans (and always good to have in your fridge for when you are running out of time). But its use is far from being limited to that. I can think of many vegetables that would benefit from being topped with walnut miso sauce and I even like it a s a dip. So before they are all gone, I grabbed a few handful for tonights dinner.
Recipe for Green beans in Walnut Miso sauce
Serves 6
300g green beans
150ml (Kombu) dashi
Splash of soy sauce and mirin
Splash of mirin (sweet sake)
80 g shelled walnut
A heaped 1  Tbsp.  white, sweet miso
2 tsp. mirin
a splash or more  of (kombu) dashi
Method
Pour 150 ml (kombu) dashi in a wide container and season it with a splash of soy sauce and mirin .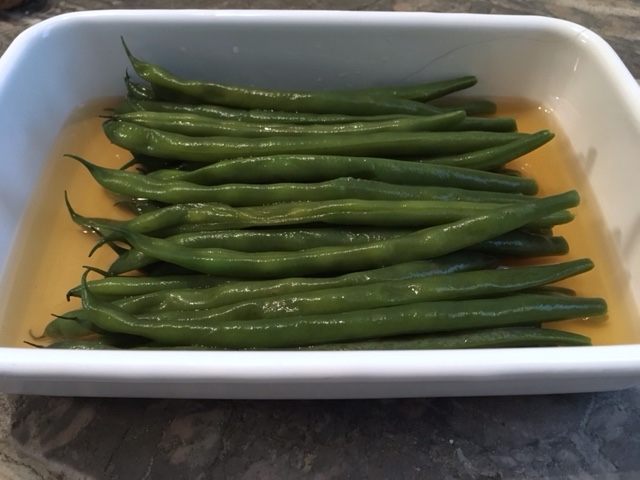 Bring a fairly large pot with water to a rolling boil and blanch the beans until they are tender but still firm (about five minutes after the water has returned to a boil). Drain and DO NOT refresh them in cold water, but put them in the seasoned dashi instead.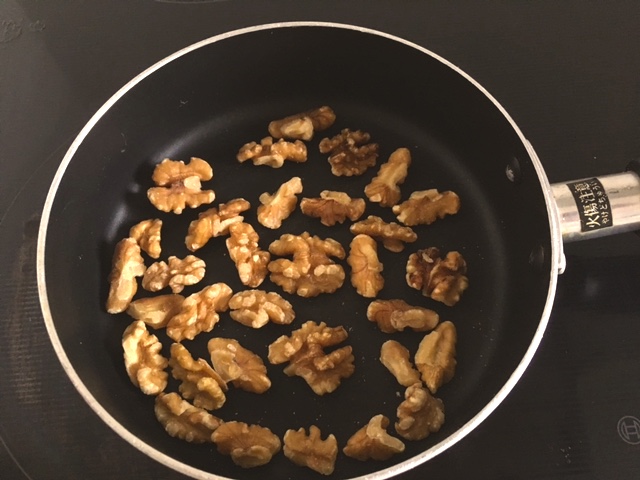 Dry roast the walnuts in a pan over medium heat. Use a suribachi (Japanese mortar) to grind the nuts until they form a paste. If you don't have a suribachi use a western style mortar and pestle instead. Mix the walnuts with the miso and the mirin and thin it out with (kombu) dashi to your preferred consistency. You may do this in a separate bowl or in the suribachi to avoid any loss.
Take the green beans from the dashi, cut them to your preferred length (depending on your serving style) and arrange them with the walnut miso sauce. You can either coat them by mixing it with the sauce in the suribachi (and use the suribachi as a serving bowl) or serve the green beans on a plate and arrange the sauce on top.
Tip: You can prepare a lager amount of walnut miso sauce and keep it in the fridge for later use. In this case omit the dashi until you are ready to use it.