Today's recipe is a fast one. And easy. Another example of mottainai – in this case using left over kombu from making dashi. Full-flavored pickled cucumber with an addictive hint of sweetness, illustrating once more that Japanese cuisine per se is neither complicated nor that it needs many ingredients.
The recipe calls for cucumbers that do not have a lot of core, so Lebanese cucumbers are not what you are looking for. Japanese cucumbers are perfect, of course, but even if you don't have access to real Japanese cucumbers you should be able to find mini-cucumbers in your grocery store, that usually have a better flesh-core ratio.
Recipe for one jar Cucumber-Tsukemono
500g      Cucumbers
2,5 cm   Ginger (peeled)
3-4 pcs. Kombu, left over from making dashi (in threads a small hand full)
180 ml   Soy Sauce
120 ml   Mirin (sweet sake)
60 ml     Rice Vinegar
Method
Wash the cucumbers and cut them into 0,5cm rounds. Take the ginger and the kombu and cut them into fine threads. Combine soy sauce, mirin and vinegar in a pot and bring to a boil. Add the cucumbers, ginger and kombu and reboil for a minute. Take the pot off the heat source and let cool (about one hour).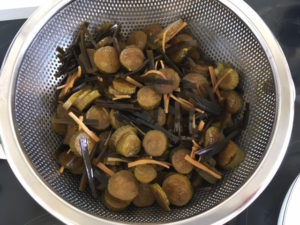 If you like your pickles to be less crunchy, repeat the process after the pickles have cooled down. In order to do so, strain the liquid and bring to a boil once more. Add the cucumbers, ginger and kombu and reboil for another minute before leaving it to cool again.
Fill pickles with the liquid into a clean glass jar and store in the refrigerator