It is often the little things that touch your heart. Little things that become very special for one reason or another. Little things that don't have a real value but a history that makes them invaluable. One of those precious items that I am referring to is in my sensei's fridge. Whenever Elizabeth is making dashi she pulls out a little plastic box, decorated with tiny flowers all over. A container that she got from a person that means a lot to her and who has also used it to store the kombu from making dashi. Each time I take my kombu from the strainer to put it in a random, ordinary container I am pulled back into Elizabeth's kitchen and I can hear her say 'when the lid doesn't fit anymore it is time to do something with it'.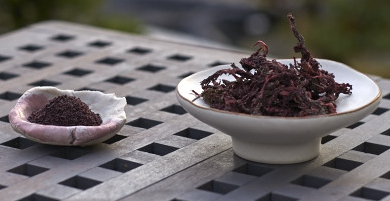 Saving the kombu when you make dashi is a very good idea. Not only is it frugal and serves Japanese sense of Mottainai*, you would also miss out on a wonderful opportunity to create something delicious. As I mentioned last week, this time I remembered to take pictures when making a staple food from left over kombu in my house: Tskudani. A soy-simmered kombu relish that I paired with some of my girls' most favorite seasoning: Yukari.
Ingredients for 1 jar Tskudani (ca. 100 ml)
Step 1: Tenderizing the kombu
ca. 6-7 pieces Kombu (each ca. 5 x 10 cm) from making dashi
500 ml Water
50 ml (ordinary/ low grade) vinegar
Step 2: Making the Relish
Tenderized Kombu from step 1
1 tsp Sugar
a good Splash of sake
50 ml Mirin
60 -70 ml Soy sauce
1 EL Yukari powder
Method
For the first step cut the kombu into bite size pieces.
I usually cut my kombu into 2 cm squares when preparing it with yukari, Bring the water to a boil over high heat (ideally in a non-reactive pan). Add the vinegar and the kombu and cook for about 5-6 minutes or until you can pinch it easily with a fingernail. I find the kombu from Japan needs less time than the kombu from Korea that I bought in Germany, so be prepared to check doneness of your kombu a few times more when you do this dish for the first time, When the kombu is tender, drain and rinse thoroughly with cold water.
Put the kombu from step 1 in a clean pot and add sake, mirin and soy sauce. Simmer over low heat, reducing the liquid until it is almost gone. Pay close attention, because this happens quite quickly and has a tendency to scorch. When the kombu is glazed, add the yukari and transfer it into a clean glass jar.
__________________
Mottainai (もったいない?, [mottainai]) is a Japanese term conveying a sense of regret concerning waste. The expression "Mottainai!" can be uttered alone as an exclamation when something useful, such as food or time, is wasted, meaning roughly "what a waste!" or "Don't waste. … Mottainai has been referred to as a tradition, a cultural practice, and an idea which is still present in Japanese culture, which has become an international concept…"
Source: Wikipedia