Eating flowers is certainly nothing unusual. Neither in the western world nor in Japan. I love pickled Chrysanthemums in fall as much as salted sakura in springtime (see my last post).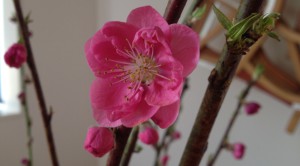 On Monday I had another type of flower for lunch: Peach. Not just palate pleasing, but equally wonderful for the eye – it was almost a crime to eat those wonderful artfully assembled flower-maki.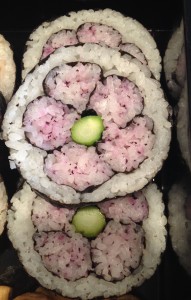 The petals are five small maki-rolls made from rice mixed with yukari, wrapped in nori. Assembled like a flower around a blanched, green asparagus in the center. They were embedded in sushi rice wrapped with another sheet of nori to give it the final maki-shape that you see on the picture. When cutting the maki-roll, be sure to have a slightly wet knife or the rice will stick to it, ruining the beauty of your work.