Springtime in Japan is magical. From the middle of March to the end of April or beginning of May the soft light pink flowers blanket the country, attracting visitors from all over the world and dominate the local's life.
For this year the sakura (cherry blossom) forecast predict the start of the bloom in Tokyo for March 23 with March 30 to April 07 being the best time for Hanami (flower viewing). In happy anticipation I got myself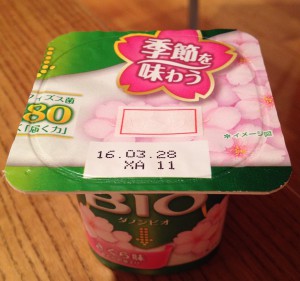 sakura joghurt and I also got a fresh pack of Tomizawa's salted sakura that I will use for the sakura rice in our Hanami picnic bento. Don't miss out on grabbing a pack or two if you are near a store (read here for more details on Tomizawa). They keep well and are equally wonderful as a finish on a perfectly grilled steak.