It has been quite a while since I packed all my belongings in a dark blue Golf and left to move into my first apartment – some 630 km away from home. Until then it was always my mom, who had decorated the house for Easter and encouraged us to help paint the eggs that she prepared. Now I am a mom myself, but having lived in non-Christian countries for the past decade I have not blown an egg for my kids so far. Until my oldest came home from school last week. Excited that she is supposed to bring a box of blown eggs.
With so many eggs and some chicken we still had in the fridge we decided to make Oyako-Donburi (rice bowl with chicken and egg – in short: Oyakodon) for dinner. An easy, fast and satisfying meal.
Donburi is a popular dish in Japan. Actually Donburi means bowl, but it refers to a bowl of rice with a topping on it. The most popular donburis at our home are Gyudon (beef), Maguro (tuna) and Oyakodon. Means 'mother and child'-rice bowl and is made from braised chicken, eggs and onions.
Recipe for 2 big Bowls
Ingredients
3 cups (á 200ml) Japanese rice
200g      Chicken breast (in bite-size pieces)
1              Onion (sliced or cut into narrow wedges)
4                 Eggs
100ml     Dashi
30 ml     Soy Sauce
15 ml      Mirin
15 ml      Sake
1 Tbsp.   Sugar
2 Tbsp.   Roughly chopped Mitsuba (Japanese Parsley) or finely cut chives
A dash   Shichimi (Japanese chilli powder) – optional
Method
Wash the rice thoroughly and cook it in a rice cooker or on the stove. When the rice is done cooking, take a big spoon or a Shamoji (a rice paddle made from wood or plastic) and quickly loosen up the rice. Close the lid and let it steam while you prepare the topping.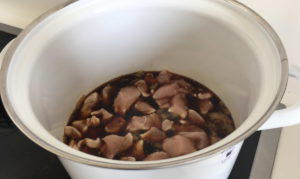 Whisk the eggs without incorporating too much air to save the silky texture. Pour soy sauce, dashi, sake and sugar in a pan and bring to a simmer. Add the onions and the chicken and cook until the chicken is almost cooked through (approx. 3 min., depending on the size).
Reduce the heat and add the eggs in circular motions covering the entire pan. Cook the eggs without stirring to your desired doneness. Shake the pan now and then to avoid the chicken to stick to the pan.
To serve put half on the rice in one bowl, arrange the chicken-egg-mixture on top and garnish with some Mitsuba,  chives and Shichimi if you like.
It didn't come on a surprise that my other two daughters came home with a similar request. So by now I have mastered to blow out eggs in a short amount of time and we were left with a lot of egg-mixture. But we didn't always make Oyakodon with it. A pretty popular dish among children is Tamagoyaki, the rolled omelet. Another staple food at our home. Stay tuned for the recipe and some tips and tricks on how to get the roling part right.