Last week I wrote about the beauty of a steaming bowl of miso soup, but realized that I haven't given you a recipe for miso soup yet. The good news is that you are already 90% there if you know how to make good dashi. The basic stock that is heart and soul of Japanese cuisine. Good dashi is important and if you ever wondered why your miso soup didn't taste great in the past, dashi is the first thing I advise you to look at. Even though making dashi is easy and fast, there are few tips and tricks you want to be aware of to take it from good to great. Take a moment to look at the recipe and the instructions here, in case you haven't had a chance to read it yet.
The basic miso soup, also called misoshiru, is made from two ingredients: dashi and miso. And you can add whatever you like or have in your fridge/pantry (see below for ideas). No other seasonings necessary, especially no additives and certainly no MSG ((monosodium glutamate) or other flavor enhancer! So if you have used miso soup or instant dashi in the past you are in for a treat.
Not convinced because Katsuo Bushi (bonito flakes) are relatively expensive outside of Japan? Your are right, the prices that I have seen were quite high, but this wouldn't be an article from me if I wouldn't point out that nothing goes to waste in the Japanese kitchen. And as such both, the Kombu and the Katsuo Bushi can be reused to make other dishes, which makes the price more bearable. In fact I made Furikake (a seasoning for rice) and Tskudani (a relish) just this week and this time I remembered to take pictures, so you will get the recipes soon on this blog. If you haven't already, subscribe to the weekly newsletter and you won't miss them.
In contrast to eating Japanese food at room temperature, miso soup is always served piping hot, so it is the last thing that you prepare for your meal. But don't be tempted to prepare miso soup ahead of time and quickly bring it to a boil just before you are ready to eat. You would destroy not only the flavor but also the nutrients. You can and should make the dashi, ahead of time and you can pre-cook the vegetables in it early on as well, but the key to good miso soup is to add the miso at the very end, and don't let it come to a boil after that.
Ingredients for 1 miso soup (ca. 250 ml)
250 ml         Dashi
1 EL             Miso
extra ingredients, cut into bite size pieces
Method
Miso varies widely in consistency, flavor and saltiness. Especially the salt level is what you should be aware of when making your miso soup. The worst thing you can do is to add too much in the beginning. The general rule of thumb is about 1 El per ¼ l (250 ml) dashi, but with a very salty red miso you might need less.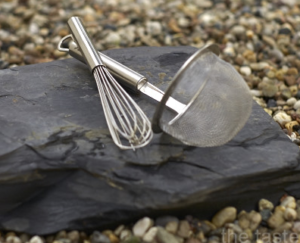 Heat up the dashi, and simmer any hard ingredients, such as potatoes or carrots. Add the softer ingredients that only need a short cooking time like e.g. tofu just before (ca. 1 min) the hard ingredients are tender. Take the dashi, from the heat to add the miso to the soup.
While the dashi, heats up add the ingredients into the soup bowls that don't need extra cooking time, but will be refined through the retained heat of the soup (e.g. reconstituted wakame seaweed).
Add the miso when you are ready to serve the soup. There are two common ways to do that. One is to mix the miso with a bit of the hot dashi, in a ladle or bowl until the miso is dissolved and stir it into the soup afterwards. I prefer to use a miso koshi (a fine, deep strainer with a long handle) and an ordinary whisk. I take out the miso from the pack with a clean whisk and mix it directly into the soup through the miso koshi. Both ways avoid lumps in the soup. Ladle the soup in the bowls and serve immediately.
Ideas for Ingredients according to their cooking time*
| | | |
| --- | --- | --- |
| Directly into the soup bowl | Short cooking time | Long cooking time |
| Reconstituted wakame | Fresh Tofu | Potatoes, sweet potatoes |
| Tops of enoki mushrooms | Stems of enoki mushrooms | Fresh shiitake mushrooms |
| Chives | Green onion | Leek |
| Mitsuba, young celery greens | Snow peas | Green beans |
*The exact cooking time varies according to the size of the cut vegetable.
Five Points to remember:
Take good dashi
Add the ingredients to the dashi, or soup bowl according to their cooking time
Remember that each miso has a different salt level and start with less miso than you think is necessary
Dissolve the miso before putting it into the soup or use a miso koshi
Never let miso soup boil after adding the miso and serve it immediately